Gunbuster Kimiko's Plea
Source: OVA
Layers: 1
No sketches available
Standard size

Original Unmatching Background

Added 10/14/2015
Updated 5/25/2018

From GunBuster OVA #5 お願い、愛に時間を! Onegai!! Ai ni Jikan wo! ("Please!! Time Enough for Love!") released on July 7, 1989.

After returning to Earth, Noriko attends her high school graduation ceremony in Okinawa. A fateful encounter on the school stairs, reunites her with her best friend, Higuchi Kimiko. In this shot they are seated on swings in a playground and catch up. Noriko begins to realize, she has become left behind. 10 years have passed for everyone else on Earth, but for Noriko it has only been four months. Kimiko is now a mother and her daughter Takami-chan is nearly three years old!

In many ways their reunion is bittersweet and an important reminder, time waits for no one. In Kimiko's mind, although they were once best friends, Noriko may not fondly recall their friendship because so much time has passed. People do drift away. However, for Noriko nothing has changed and she is shocked by Kimiko's words. She begs Noriko to give Takami a 'future'.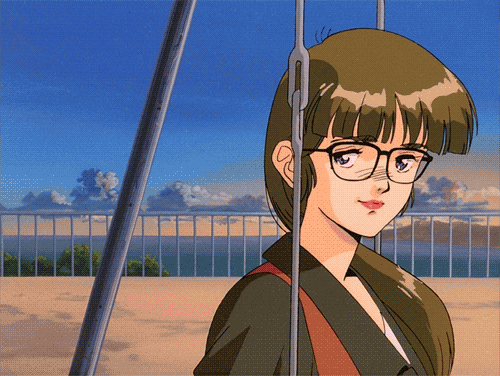 Click to open in new window